Connect RightMessage with SamCart
RightMessage helps you personalize elements of your website to convert the website traffic on your site into leads, sales, customers, and clients.
To begin using RightMessage you must install a small Javascript tracking snippet into the SamCart product 'Advanced' settings area. This activates RightMessage by inserting .js into the page.
Follow the instructions below to connect RightMessage to your SamCart based Website
Note: When you set up a RightMessage account for SamCart, make sure you have added the checkout page for the product as the URL.
Instructions
First, you'll need to grab your tracking snippet: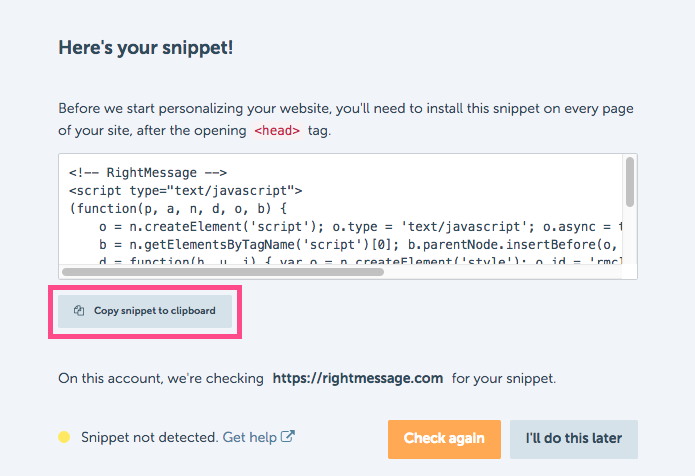 Click on "Copy snippet to clipboard" and then log into your SamCart account.
Installing RightMessage in SamCart
Log into your SamCart Admin area and navigate to the 'Products' tab. Click on the product name you area adding the RightMessage code to.
Click on the 'Advanced' tab in the options on the left of the screen.
Paste your RightMessage tracking code into the 'Embed HTML/Scripts In Footer' field provided.
Click the red 'Save Changes' button to save the changes.
And you are good to go!